MARYLAND/VIRGINIA SUCCESS STORIES
Tucker: Hi, Jennifer! Since it's been about a year since we adopted Tucker, I wanted to share some photos with you! He's now 175 lbs of absolutely solid muscle! I don't think there's a single ounce of fat on that boy! He's happy and lazy, and he and my son have become best friends. This dog is the gentlest, kindest creature I have ever met! He's so happy to see me every time I come home from work, you can practically see the smile on his furry face!
He's healthy, he's happy and he's loved!
Thanks again for bringing us together!
Nicki
Diamond: and Thunder: Diamond and Thunder are three years old, and are a bonded pair. They will only be placed together. Our history with this couple dates back to the spring of 2011, when they were bred and had seven puppies. The previous owner turned the puppies over to us, and we placed all seven in safe and loving homes. We kept in touch with Diamond and Thunder over the months, and, when we got the call from the shelter about two saints turned in during Hurricane Sandy, we knew who they were. We are thankful the shelter worked with us to help this Saintly couple. Diamond and Thunder are one of three pairs in the rescue at this time. We do not believe in splitting up bonded pairs. Some rescues believe pairs should get a "divorce" and that it will help them bond better with their new owners. This has not been our experience. In fact, we find it makes two sad, upset, and anxious dogs. We believe these creatures have been though enough without losing their life buddy too. Since coming into our program, these two have made amazing progress. They are gaining weight, learning manners, and are socializing nicely. Diamond and Thunder are a delight, and they love to play. We would like to get them into a giant breed experienced home so they can start their new life. If you can take two wonderful dogs and want some spice in your life then these two are the ticket. Update January 13, 2013- A huge Thank you to two special people, john and Lori for adopting our special pair Diamond and Thunder. These two saints got an amazing home and the best part is they got to stay together. We are so thankful and happy about that. Our rescue work started with these two Saints in April of 2011 when we picked up 4 of their 7 puppies. A short time later we got the other 3. All 7 are in wonderful homes. Diamond and Thunder ended up at an animal control facility. Thankfully we were called. They remind us why we do what we do for these wonderful Saints. They came in thin and scared. I wonder about the times they probably did not have food. Thunder was at least 30lbs underweight when we got him. These two have come along way since we got them from the shelter, thanks to our volunteer Dee. She has spent countless hours with them over the last few months. We wish them and their new family the best and many happy years together. 12/17/2012
UPDATE
HI Jennifer -
Just wanted to let you know that Franklin (Zoro) and Henry (Sumo) are doing fantastic! Both are eating well and have quickly learned that a doggie bed is way more comfortable than the floor. I am going to have a dog trainer come to the house next week so that I can make sure I have voice control over both of them. Today I took them on individual walks for about 5-10 minutes each - they did well - I plan to keep working on building their confidence both individually and together.
Thanks again for delivering my new best friends!!!
Zorro: and Sumo: These two gentlemen are brothers and are about 4 years old. They were given up when there was a change in their housing situation. Naturally it was no fault of theirs that they ended up at the shelter. Thankfully Saint Bernard Rescue was called and we could not resist. So moving forward we need to get these guys in a home as soon as we can. They will only be placed together. We know some rescues like to give pairs a "divorce" as their thinking is they will not bond with the new family. We have not had that experience and we feel our rescues that come in as pairs need their life companions with them. It only helps with their adjustment when placed. The fact is two Saints are a lot of fun, and these two are a real treat. They are a good size Saint about 140lbs a piece, however they are big teddy bears. The pictures speak for themselves. Sumo and Zorro love a car ride and appear to be very laid back. They are smooth coated (short hair) and are beautifully marked. They were well cared for from all indications. They walk well on a leash and have nice manners. The boys have not quite figured out they are not going back home. Sumo and Zorro are looking for a nice new home where they can be someone's new best friend and establish a new life. Even if you can not commit to adopting them please consider fostering. We need assistance for them by Nov. 26th. If you are thinking about a new addition these lovable boys will not disappoint, in fact they will add a lot of joy to some special person's life. 12/5/2012
Hi Jennifer -
My name is Lori Spier and in 2006 I adopted Harley from your group. I just wanted to tell you that, even though he's reached the fairly ancient age of 12 years, Harley is still getting along just fine. He's got some skeletal issues as a result of both age and poor breeding, but a Rimydl or two a day keeps the aches at bay. One of Harley's favorite games in fact is to chase the Bloodhound thru the house while pretending he wants to mount her!
I've attached a photo of Harley doing what Saints do best - chilling out in the snow :-)
Thank you for giving me the opportunity to adopt Harley and become the dog-mom to one of the best big guys in the world.
Lori Spier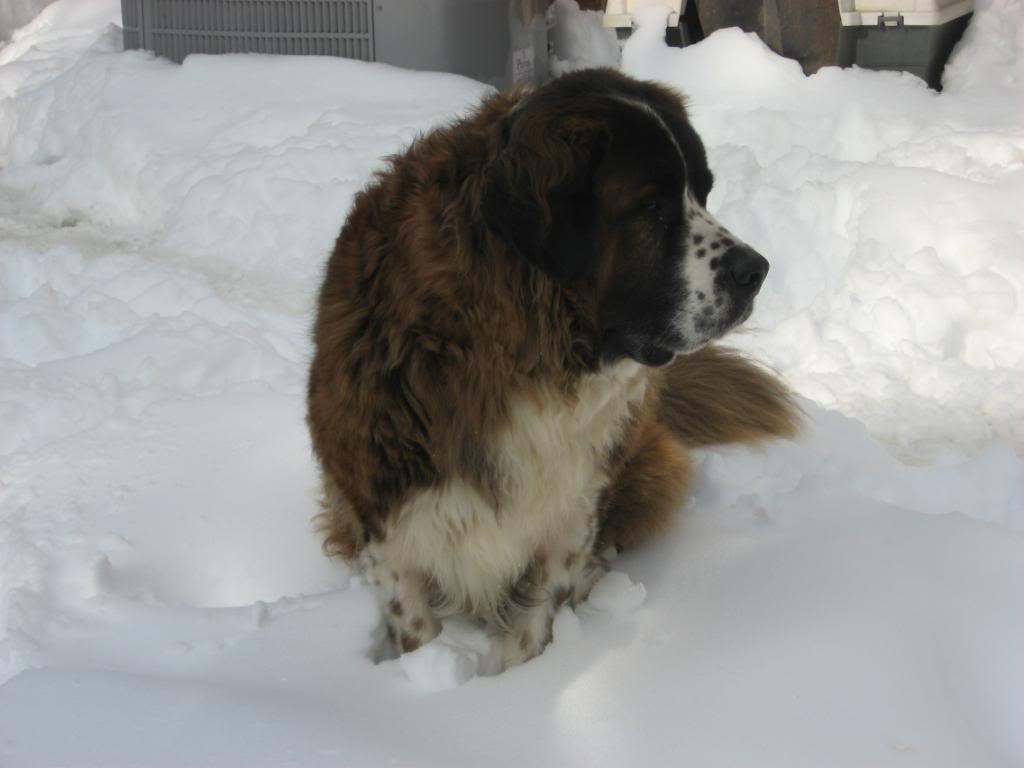 Here's our girl! Happy and healthy and in her favorite napping spot.
She must have had a boy in her first home because she's boy-crazy. She loves playing with boys, and if a boy comes over she follows him around. Our sitter has a college age son and she loves playing with him. He adores he, too.
We had to extend a part of our fence to 6 feet to prevent jailbreaks but she wouldn't run away" per se. She'd just trot up and down the street until she found somebody home and then park herself in their kitchen until I came home. She's always up for a party.
My husband really enjoys her goofiness. She's a sweet girl and a perfect fit for us.
Many, many thanks,
Louise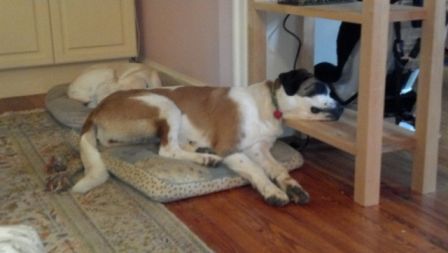 Hello,
I am writing to let you know that my Saint of 11 wonderful years passed away yesterday. My wife and I adopted Ely (formerly known as Hank) in Oct/Nov 2001 from Kathy Asid who used to run the adoption program for the DC/MD/VA area. I can't begin to describe how special Ely was to me, my wife, and our two young daughters and what a terrific and loving animal he was. The breed is especially sweet and smart and Ely was both things and much more.
We will miss him very much and he will always hold a special place in our hearts.
Thanks to you and Kathy for your efforts to ensure these sweet animals have safe and caring homes.
Regards,
Mark Hodor
Just wanted to thank you guys so much for helping match us with Maverick, we fell in love with him right away and he's doing really well. He hasn't had any accidents and is a very quick learner and he even gets along with the cats! He loves running along the back fence with his friend who lives on the other side of the fence and he loved playing in the snow. He loves a good belly rub and is just a glutton for our affection. He's just such a well behaved big boy and a wonderful addition to our family. We've attached a few pictures, so you can see how cute he is.
Thank you so much,
Amanda & Sean Wolfson
Hi its us Jean and Jeff Johnson wanted to wish you a Merry Christmas from Dutch and Dolly and wanted to let you know there still doing well and here are a few Pictures for you for your success wall....
Jeff and Jean
Hi, Jen and Kathi! Just a quick note from us Ervins to say Thank You! We are so happy to have Jenny, whom we now call Heidi. She is a beautiful and loving addition to our family. It's been three weeks, and we could not be happier. We are so grateful.
I'll try to send a picture or two in the coming weeks. This "little" gal has grown in just three weeks!
We hope all is well with you and thank you again for your kindness with us. Take care!
Mary Jo Ervin and family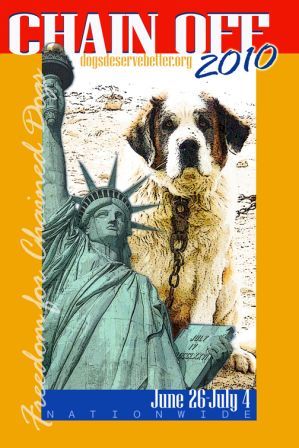 Jennifer,
My wife Beth and I are absolutely thrilled with Isabelle and Star. It is obvious to us that your foster, Katrina, did an exceptional job with the girls. They are beautiful. . .in every way. We love them. Our experience with your rescue was outstanding. I just wantedto thank you and Katrina for making it such a pleasant experience. The girls act like they have lived here all of their lives. They have made a seamless adjustment to our home. We were very sad when our last Saint Bernard Twinkle passed away after Christmas. Star and Isabelle have brought the fun back into our home.
We just wanted to Thank You for your dedication to the Breed. I really believe these animals were sent from heaven to be our Best Friends.
Thanks Again!
Mike and Beth