Illinois
***PLEASE NOTE: Not ALL of the Saints featured here will be at our personal appearances. If you are making the trip to see a particular dog, please contact us prior to coming.
Come out and meet the Saints!!!!!
There are saints coming each each week.
Our adoption fee is $400.00 All of our dogs are sterilized, up to date on vaccines, heartworm and parasite tested and treated, and micro-chipped for identification.
Illinois Saint Bernard Rescue is looking for temporary, loving foster homes for homeless Saints in the all around IL and IN . If interested, please contact Emily Jones at 217-825-5243.
If interested in adopting from our program, please fill out an application to begin the adoption process. Adoptions are based on a matched criteria and not necessarily on a dog you may see on our site.
Hiedi: They do not get much sweeter and more laid back than this lady. Hiedi is 6-7 year old Saint with a true saintly demeanor. She is up to date on vaccines, heartworm negative and looking for her forever home. This gal is the best. Her adoption fee is $500. TO make her part of your home fill out an application online. 2/23/2020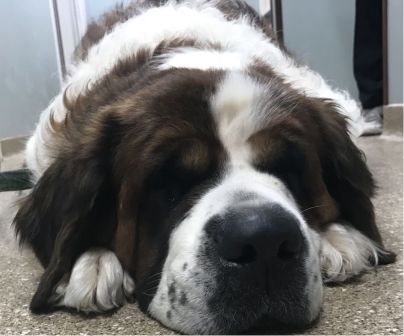 Wrigley: 22 month old Wrigley would love a home with a submissive or uninterested companion.. She can get along with others but can act dominant with others. You will need to be the boss of her. No children under 13 years. She is very sweet and will make a great dog. She does need training and socializing outside of the home. She lived as a kennel dog her whole life but has acclimated you house life extremely well. She is crate trained. Her adoption fee is $500. Please fill out an application online to start our process. 2/23/2020
Amos: is a sweet 18-month-old smooth coat a St. Bernard. He does have some elbow dysplasia due to his previous owners using him as a jogging dog. His elbow may swell a little bit after some rough playing and bouncing around, but that doesn't stop this boy from loving life. He is house trained great with other dogs good with kids cats and everybody he meets. To add the sweet boy to your home please fill out an adoption application to start our process. His adoption fee is $550. 2/17/2020
Ruben: is a 5 year old male Newfoundland. He is a breeder turnover from Amish in IN. Please stay tuned as we get to know more about this boy. He will be vetted including, neuter, vaccines and microchip. Adoption fee is $600. 2/17/2020
Dorothy: Sweet Dorothy was turned over from an Amish breeder. Please stay tuned as we learn more about this gal. She will be spayed and vaccinated prior to her adoption. Dorothy is 4 years old and was previously used for breeding. Her adoption fee is $500. TO start our adoption process please fill out an application online at application. 2/17/2020
Lydia:
Do you love the Newfy breed but don't feel you have room for the size. Meet this 5 year old gal Lydia. Who landed in rescue from an Amish Breeder. This shy sweet girl is making leaps and bounds with learning to be a real dog. She will require companionship of another dog or two in the home. She is about 98% house trained , but crated when fosters are not around. If you think this little girl is the one for you please feel out an
application
online. Her adoption fee is $600. She weighs in about 65-70lbs current. She is very petite but has the beautiful hair coat of a Newfy. Lydia would love a family with a pack to call her very own. Lydia is a Landseer Newfoundland.
11/4/2019