Adopted (Placed) Saint Bernards 2020
Holly: is an 8 month old that landed herself in rescue when the ex Gf left her behind. Thankfully the sister stepped in and suggested her brother send her to rescue for a chance at a better life. Holly is learning how to become a house dog as well as play nicely with other dogs. Her foster brother is older and reminds her daily to play nice and not like such a puppy. She will require basic obedience within 6 months of adoption. She is spayed and up to date on vaccines. Holly also requires a fenced yard. Her adoption fee is $600. She would benefit from having another dog in the home. To 11/5/2020
Beatrice: was an owner relinquish from someone who loved her very much. With his future unknown and potentially being deployed but not sure where or for how long he wanted to know she was safe. We immediately stepped in to help him place this petite little 7 year old gal. Bea would prefer a home with one or two other dogs who like to occasionally play but not dominant. She loves everyone she meets. She is house trained, walks well in a leash and listens and obeys basic commands. Bea would be a lovely addition to a family and give you so much love and play. She is good with cats and kids... 10/26/2020
Henry: will be a year old in Dec. sadly this boys owner feel sick with cancer and her treatments left her no time for Henry, So we stepped in to help her out. This boy is young, sweet, and full of willingness to learn, He is crate trained and house trained. Knows basic commands and is working on some new ones, he loves everyone he meets. His adoption fee is $600. He will be altered , up to date on vaccines and microchipped. 10/26/2020
Tesla: Hi, My name is Tesla. I am a full on the go girl!! can run like the wind, jump a 6 ft. fence when your not looking. I do that because I am a social people dog, I love people!! I want to be with my family whatever they are doing, also want to be a house dog, as I just love hanging out in front of the TV. I am strong, so if there are any competitions your thinking about I'm your girl.! I am not for the dainty person. I need someone strong to walk me as I can get excited and want to pull to see something. I m so sweet and love to give kisses. The adoption fee includes all shots, heart worm test, neutering, a Home Again microchip and one night free obedience class in the Reno, Sparks, Carson City and Tahoe areas. We also include an information packet and a large bag of Pedigree dog food. Our adoption fee is $400.00 and we are located in Reno, NV.. 11/13/2020
Ruffus: needs a foster or foster to adopt. His owner had to go into rehab so he left without a home through no fault of his own. He lived with 3 children and seems very sweet. More info and better pictures coming soon.11/25/2020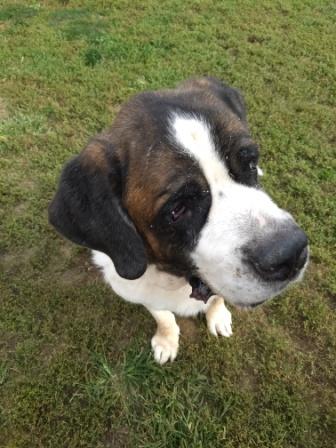 Ruben:
is a shelter and needs a foster to get out. He has been checked out and the shelter thinks he is so great. He did so good with his testing they are keeping him until he is claimed instead of the alternative. He has been tested for any kind of aggression and finished with flying colors. Rueben is a little shy at first but warms up quickly and is very bouncy and playful. Just an all around love as described by the shelter manager,
11
/25/2020
Bee Bee: is a 4 year old female Saint Bernard. She is wonderful with kids and great in the house. She would do best as an only dog, although we are working with her on her dog reactivity. She has lived with small dogs before and done fine. Bee Bee is a complete sweetheart and loves to cuddle on the couch, go on walks, LOOOVES car rides, and small bouts of zoomies. Secure fence and gates are required as she will run if given the chance. All dogs must be fixed. We adopt to within 12 hours of Boise, ID. 11/15/2020
Frank: alias The Tank is looking for a Foster through no fault of his own. The owners have to move and they are heart broken. He is 3 years old, 150 lbs and very friendly. Fosters have the first pick if they want to keep their dog. We will post more as we get to know him better.11/5/2020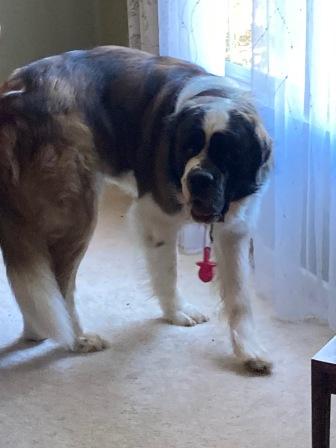 Hemi: is a 6 year old male Saint Bernard. He LOOOOVES the water, and is awesome in the house. Hemi has done well with some dogs and a little grumpy with others, so an introduction is needed. Children over 8 recommended. Hemi has a serious fear of missing out, so will need a family that is home a lot, or can take him with them. While Hemi is just to die for and the sweetest love on the block, he takes his job of protecting his family in their home very seriously, so a family with very few visitors is best. He is also incredibly stubborn and does things on his own timeline. He gets nervous if forced. All dogs must be fixed. Fenced yard required. 11/3/2020
Sven: is approx. 11 month old puppy. He is very playful and wants to just have fun. Sven is weighs in at about 105 lbs and has a lot of growing still to do. Sven is a good puppy but will need a lot of training just as all puppies do. But if you are looking for a happy playful guy here he is.11/3/2020
Oliver: is a large (130 lb) happy playful dog who is looking for his forever home. Oliver current lives with three other Saints and he thinks there job is to play with him all day long. Oliver walks well on a leash and knows basic commands, but he will need additional training. So if you are looking for a big playful guy he is. v
Molly: Big, goofy puppy in need of good and patient human to bring out her best. Molly adjusts to her environment quickly and on her recent overnight she figured the yard out right away. After being introduced to the patio door, she went to it to signal when nature called. No accidents! And her foster reports that she was an absolute joy to have as a guest! She is very loving and seeks attention and affection and she comes when she is called. Molly may initially be best as an only pet so you can focus your attention on her development, though she is learning quickly! Big, sturdy seeing-eye kids would be great! 10/27/2020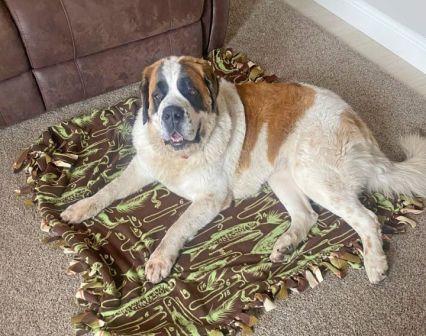 Chinook: is a 5 year old neutered male l/h Saint. Chinook came to rescue after his owner passed away. Chinook's ideal home would be with an older couple or individual as an ONLY pet. Since Chinook has not been raised around kids, we are recommending no kiddos in the home. Chinook loves attention, is smart but doesn't know many commands, as he was an outdoor dog before coming to rescue. He is stubborn. He is well behaved in the house, has had no accidents and whines when he needs to go outside. He is very food motivated. He is sensitive and a little timid with new things. He doesn't show a lot of interest in toys and is a leery of balls, but is learning to play a little. Chinook enjoys a good chew bone. He is very laid back with adults but doesn't like to be hovered over or to get lots of hugs, he is a bit afraid of loud noises and loud barky dogs. He is still learning about getting into the car, once he is in, he is good. Walks well on leash and wants to be inside with his people. Loves the air conditioning. Chinook is quiet, doesn't bark a lot, does not seem to have any signs of separation anxiety. He needs to be brushed regularly and is not a heavy drooler. He is a great dog, just needs some confidence building. Chinook is neutered, utd on vaccines, microchipped, wormed and h/w negative. He is currently being fostered in Forest Grove area. 10/26/2020
Alice: Sweet Alice was a breeder dog for the Amish. Thank You fully she has left that life behind her and lives being inside. She will be vetted prior to going to her forever home. Her adoption fee is $600. This gal is reserved and quiet house companion. She is 6 years old and can't wait to find her FORVER home. Is that you? 10/26/2020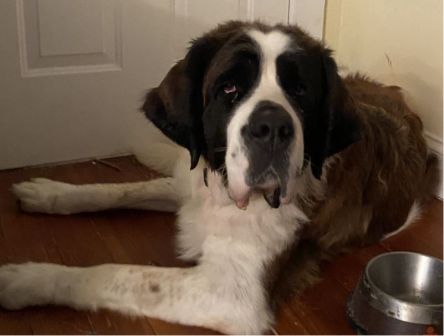 Kovu: was an owner relinquish from northern Illinois. He will be seven next month, he is very sweet and loving. He enjoys the company of other dogs. He is house trained as well as likes to go for car rides.He is great with both big and small dogs and would make an excellent companion for any family.10/26/2020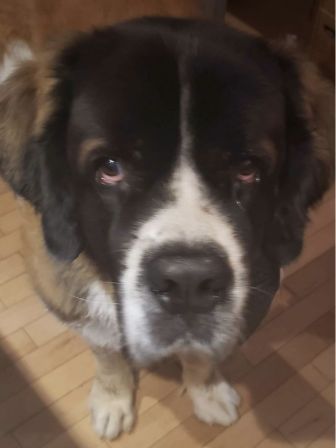 Abbey:This 3 year old smoothie gal came to us as a breeder turn over. She is sweet as pie and loves being a house dog. She is good with kids, cats and other dogs her size. She is ok with smaller dogs as long as they aren't intimidated by her size. Abbey has been spayed and is utd on vaccines and in the market for her forever home. Are you her family in shining armor? This sweetie did get her tail caught in the fence and had to have part of it amputated so she has a 3/4 tail. Doesn't stop it from wagging and showing her love for life. 10/26/2020
Koda: This is Koda. A beautiful full blooded Saint.  He is so sweet and lovable. Koda is housebroken. He weighs about 135 lbs or more and is housetrained. Koda was unneutered and starting to fight with the other dog in the house. He is now neutered and  may be alright with another female, but testing would have to be done. He is a big young boy who is strong and will need lots of space to run, and an athletic family.  When excited he can be  pushy and is strong on a leash.  Most times he is docile and just happy to sit by you.  Koda needs someone who is strong and can train and work with him.  He will be a truly great Saint as he grows and learns.  He is so forgiving and non aggressive.  He has no food issues.  He is just a big strong lug.  If you have Saint experience or large dog experience and can work with a young strong sweet male, he's for you.  He's neutered and has had his required shots.  10/26/2020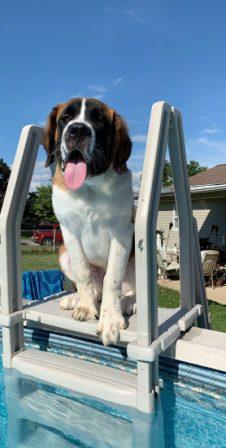 Max: is a very friendly loving people dog. Has tons of energy! He knows some commands, like sit, down. wait. He will pull on a leash, so a heavy collar and training is strongly suggested. He is almost 2 yrs old The adoption fee includes all shots, heart worm test, neutering, a Home Again microchip and one night free obedience class in the Reno, Sparks, Carson City and Tahoe areas. We also include an information packet and a large bag of dog food. Our adoption fee is $400.00 and we are located in Reno, NV.. 9/92020
Honey: is an incredibly sweet and gentle 4 year old Great Dane. She is excellent with other dogs and very playful! She would really love a doggy play friend in her new home. She loves to cuddle but isn't super intrusive. Honey is house trained. She pulls a little on leash so she will need work on that. Fenced yard required. All dogs must be fixed. We adopt to within 12 hours of Boise, ID. 9/4/2020
Mirabelle: is a 3 year old beautiful Saint gal. She is learning what "house " life is like and loves it. She's sweet and loving and adores people, cats and other dogs. Her ideal home will have a fenced yard (which is required for all adoption), and another dog or two to interact with. She would do best j. A home with older children as smaller ones tend to freak her out with noise and movement. She is up to date on vaccines and spayed as well as started on preventatives. We have been treating her for an ear infection which is mostly cleared up. 8/2/2020
Blanche: is a young old calm laid back saintly girl. She is looking for her forever home with another dog friend as well as a fenced yard. She will need someone to finish working on her house training as well as basic obedience. Her adoption fee is $600, to which she will be spayed at a later date. Blanche enjoys hanging with her people and other foster brothers and sisters while being up to naughty puppy antics. She chews, she has accidents and she plays hard to sleep just as hard. 8/2/2020
Corrina: after many times of being picked up by animal Control the owner who would loved her for three years decided it was in her best interest to find a new home. Due to his failing health he could no longer care for her the way he felt she should be cared for. ISBR stepped in to help this girl find her forever home. Corrina is about three years old she has a smooth coat female. She has been spayed and updated on her vaccines she is heartworm negative. She is on preventatives and thriving in her foster home. She is good with dogs of all sizes as well as cats. She is ready for her forever home. Is that you? Do you have a couch and/or a bed that you can offer to the sweet girl? 8/2/2020
Pearl: is a cute little (for now) spunk Saint gal who is about to turn 6 months old. She is up to date on vaccines as well as started on preventatives. She is working on not back sassying her foster mom and working on crate training. She loves to speak her mind and be a naughty puppy. She will require basic obedience as well as continue working on house manners. She must have a home with another dog as well as a fenced yard. She is being treated for an ear infection that is clearing up nicely. 7/31/2020
Moose: is a 10m old neutered male looking for a new place to call home. Sweet, cuddly and a heart of gold! Moose is good with other dogs. He needs to go to a St. Bernard experienced home and to an owner who is willing to help him learn big dog manners, obedience and socialization. 7/30/2020
Bosco: is a 3-4 yr old neutered l/h male about 135lbs. Bosco is a VERY sweet boy and loves attention from his people. He is a little reserved with other dogs and we believe that he was discouraged from playing with other dogs as his former owners bred small dogs. He will not make a good "play companion" for another dog as he tends to ignore the other dogs he lives with. We think he would be happiest being your one and only. He will need to meet any other dog in the home prior to adoption. He has done well with dog savvy cats, but some cats have not done well with him. With an experienced owner who is willing to supervise and correct when needed, a dog savvy cat can be considered. Bosco is an excellent house dog and has good manners. While his foster family is out, he sleeps. He is housebroken. He walks well on a leash with a little pulling that is manageable by anyone with big dog experience that has normal strength and balance. He has done well in new places, rides well in the car. He gets very excited when it's time to go out the front door and really wants to go, so brace yourself. He has ignored livestock when introduced and had no interest in the deer or other animals wandering around the farm. Bosco enjoys the morning sun but as soon as the temperature starts to rise, he wants to park in front of the A/C inside the house. He needs a yard with room to explore and a solid 6 foot fence. He has been good with everyone who has visited his foster's home. Bosco needs to go to an experienced Saint owner. Prior to coming to OSBR he was placed in condos and apartments, with owners who had no or limited experience with the breed that were not comfortable with drooling and shedding, big barks, the strength of the breed or a little leash pulling. We want his next home to be his FOREVER home. Foster mom says he has been the easiest dog ever. Bosco is going to make some family very happy. Recommending older kids who have been around giant breeds and no anti-drool divas (his drool activity is rated medium-low). UTD, Microchipped, H/W neg, neutered. Currently fostered in Monmouth, Oregon. 7/30/2020
Maizie: is a 14month old spayed l/h female Saint Bernard. She is a big, tall girl, weighs about 140lbs and she hasn't filled out yet. Maizie was rescued from life on a chain, underweight, ear infections and flea infested, she had no socialization or training. She still has a 6 month old puppy brain in her big body. She is not very aware of her size. Maizie can be a little fearful of strange people at first, but she warms up given a short time; a little space and tasty bribes and it's not long before she is laying in your lap on her back or sitting on your feet. Maizie has the most beautiful eyes and uses them to her advantage. Maizie is doing ok with her foster's cats but it is an ongoing process. She has a strong play drive so she will need to meet any dog in her new home. An ideal playmate would be a dog of equal size and energy level (high). Not recommending any dogs under 50lbs other than her size is a little intimidating. She has done well around fireworks, has gone to family picnics and did great with meeting new people and dogs. She will be taking her first camping trip this weekend. She has had a few trips to the dog park and played very well with the other dogs. Due to her lack of spatial awareness we are recommending no kiddos. You: Patient, consistent, strong, steady on your feet and able to work with some leash pulling, experienced with Saint Bernards, committed to obedience training and socialization and perhaps some other activity like agility or hiking. Maizie is very food motivated. She will be a rewarding dog to train, a quick learner and best of all, she is going to bond like glue to the person who puts in the effort with her. Housebroken and crate trained. Food must be put out of her reach for now as she came from an insecure food situation and countersurfs for entertainment. Very large, strong girl. Requires 6 foot fence. Microchipped, UTD and spayed. Currently fostered in Portland area. 7/24/2020
Ginger: is a one year old sweetie pie of a saint. She loves to cuddle with you and zip around you like crazy and then stop at your feet for loves. Ginger was turned in to a high kill shelter in California with her remaining puppy. They were separated and the puppy was adopted shortly after. This left Ginger alone and afraid. After pulling her a wonderful lady fostered her and helped her to start learning life would be kind to her and food would always be there to eat. Since coming to the rescue she has continued to blossom and show her great personality. She now loves to go outside and zip around the play yard at full speed then stop right at your feet for loves and off she goes again. She loves treats and will run with them to her favorite blanket to lay down and savor the treats she never had before. She still doesn't know what toys are for but loves rolling around on her blanket and hiding her nose in it. She has been meeting the other rescues through the fence and seems to want to play with them. We will be introducing them shortly.7/21/2020
Zoey: will be 3 yrs old this August. She is a big love bug that loves people. She gets along with most dogs but NOT Boxer dogs and NO CATS or SMALL Animals. Her Bad Habits are: Escaping from a fenced yard, She can Climb a 6 Ft. fence in under 2 second's flat. So If outside she will either need a person to watch her, or have Hot wire fencing on the top and bottom of her yard. She will have her vet work up on May 2nd. then will be ready for a new home 2 weeks after that. So check back. The adoption fee includes all shots, heart worm test, neutering, a Home Again microchip and one night free obedience class in the Reno, Sparks, Carson City and Tahoe areas. We also include an information packet and a large bag of dog food. Our adoption fee is $400.00 and we are located in Reno, NV..7/13/2020
Bentley: is a 2 yr old s/h neutered male. Good with older kids and other dogs. Bentley is a love bug who wants to be with his people. This boy loves adventures. Knows basic commands and is treat motivated. No cats. UTD, Microchipped, H/W neg. 7/6/2020
Dexter: is a 2 yr old s/h male looking for a bigger space. Dexter has been brought up in a condo and has spent most of his outdoor time on a leash. We would like to see him have room to run. Must go to owner who has extensive experience with Saints. Neutered, UTD, Microchipped, and H/W neg. 7/6/2020
Jersey: is a spayed 4 yr old short haired Saint Bernard mix ready for her forever home. Jersey is a petite girl, weighs about 65lbs. She is athletic and is looking for a home with an active family that will take her for walks and hiking. Jersey loves everyone, likes to give hugs and cuddles. She has been good with children. She knows some basic commands. She can be selective with other dogs and needs slow introductions, but she has done well with the male dogs in her foster home. In Jersey's mind, cats are for chasing and she would prefer a cat free home. She has had problems with chasing livestock in the past. She would love a yard with a 6 foot fence. She can be an escape artist when she is bored, so we are hoping for a family that can keep her entertained and happy. Jersey is spayed, UTD on vaccines, heartworm negative and microchipped. She is currently fostered in Monmouth, OR. 6/10/2020
Dorothy: Sweet Dorothy was turned over from an Amish breeder. Please stay tuned as we learn more about this gal. She will be spayed and vaccinated prior to her adoption. Dorothy is 4 years old and was previously used for breeding.5/1/2020
Hiedi: They do not get much sweeter and more laid back than this lady. Hiedi is 6-7 year old Saint with a true saintly demeanor. She is up to date on vaccines, heartworm negative and looking for her forever home. 4/26/2020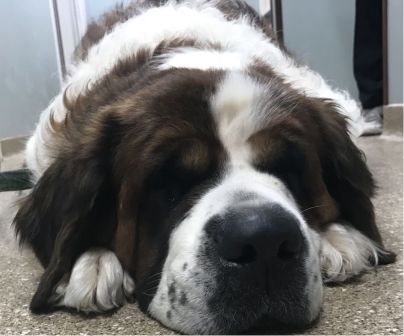 ODIN: WARNING....YOU ARE ABOUT TO FALL IN LOVE WITH ODIN! Odin is a heart stealing, laugh providing, bed hogging, cuddle demanding, Shadow doggo. He loves other dogs and is constantly hugging Penny the pup, his foster canine sibling. Odin is a 4 year old, energetic play buddy who would love to go adventuring with his new family! Seriously...Odin loves everything...except kids. Kids make him incredibly nervous and he doesn't react too kindly to them. Odin has been learning how to properly walk on leash without yanking people off their feet and he is just about a pro now! Odin would love a home with another dog to play with, and an active family that will take him out on walks, and out and about to see and smell new things. Fenced yard required. All dogs must be fixed. We adopt to within 12 hours of Boise, ID. 4/16/2020
Bianca: is a 3 year old lilac Great Dane (exact DOB unknown). Spayed, UTD on vaccines. She needs a home with someone who has the time and experience to help her transition into an inside family dog. She was raised outside and is currently preferring to sleep and hang out in the garage. She is nervous with men at first but warms up and ends up loving them. Doing great with the other Danes in the home. Currently living with dog, and respectful children ages 5 and up, and doing great with them. Fenced yard required and all dogs must be fixed. 4/16/2020
Sophia: is a female Great Dane looking for her forever home. She is a playful, energetic gal. Great with dogs, barks at cats when they come near her crate but is fine out with them, and excellent with kids. Very food motivated so keep those counters cleared off! Crate trained and house trained. Just a sweet cream puff looking for an active family to go on adventures with! She can jump short fences so a 6 foot fence is a must. We adopt to within 12 hours of Boise, ID. 4/16/2020
Rose: is from the Golden Girls litter from this summer. Sadly she is being returned through absolutely no fault of her own. Rose is about 6-8 months old, great with other dogs, although would be fine being an only dog, best in a home without cats, or with dog savvy cats, and is REALLY good with kids. In fact we would love a home for her with kids to grow up with. She is house trained and ready to go to her new home. Rose would benefit from an obedience class to help her bond with her new family and learn some more commands. Fenced yard required. All dogs in the home must be fixed. We adopt to within 12 hours of Boise, ID. 4/16/2020
Lydia:
Do you love the Newfy breed but don't feel you have room for the size. Meet this 5 year old gal Lydia. Who landed in rescue from an Amish Breeder. This shy sweet girl is making leaps and bounds with learning to be a real dog. She will require companionship of another dog or two in the home. She is about 98% house trained , but crated when fosters are not around. She weighs in about 65-70lbs current. She is very petite but has the beautiful hair coat of a Newfy. Lydia would love a family with a pack to call her very own. Lydia is a Landseer Newfoundland.
4/15/2020
Wrigley: 22 month old Wrigley would love a home with a submissive or uninterested companion.. She can get along with others but can act dominant with others. You will need to be the boss of her. No children under 13 years. She is very sweet and will make a great dog. She does need training and socializing outside of the home. She lived as a kennel dog her whole life but has acclimated you house life extremely well. She is crate trained. 4/15/2020
Amos: is a sweet 18-month-old smooth coat a St. Bernard. He does have some elbow dysplasia due to his previous owners using him as a jogging dog. His elbow may swell a little bit after some rough playing and bouncing around, but that doesn't stop this boy from loving life. He is house trained great with other dogs good with kids cats and everybody he meets. 4/15/2020
Max: (Sacramento, CA area) This is one-in-a-million Max, a 4 ½ year old, smaller male Saint Bernard, who is a laid-back, love-muffin! He is an alumnus of Adopt A Saint, adopted a few years ago to a family that has had some changes to their home that make it hard on Max, so they are seeking a better situation for their best buddy. Max has an easygoing temperament, social with dogs and strangers, but no experience with cats. He is UTD on shots, walks well on leash, prefers to eat lying down, gets excited about car rides, house-trained and lives as an inside dog with access to a yard. Max is a crazy good cuddler and gentle with children of all ages. He loves to wrestle with other dogs and would enjoy a companion, which might help him not jump fences! Max has climbed a chain link fence to go explore the neighborhood on his own, so "no climb" fencing is a requirement! Max is located between Sacramento and South Lake Tahoe, so potential adopters must be willing to drive to his location to meet him. If you have been looking for a cuddle-bunny baby nanny, you found him! 4/14/2020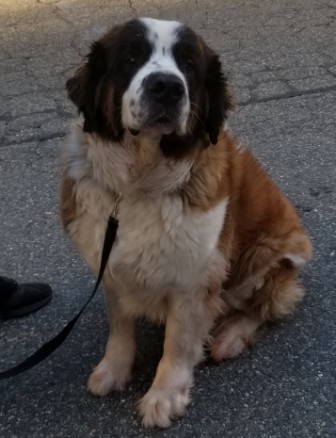 Fiona: Fabulous Fiona is a 3-year old, rough coat, Saint Bernard beauty. She's super sweet and has not met a stranger she doesn't love! She's probably good with dogs, not sure about kids, but a meet and greet would be necessary prior to adoption. We are still getting to know her, but this chunky monkey is going to make a lucky family feel like they won the lotto! Fiona is being fostered in the San Diego area.4/10/2020
Freya: This is Freya, she is a 2 year old Great Dane that loves to run and play and she is fast. But once play time is done she wants to hop up on the couch and snuggle with you and watch the game. Freya is young energetic so needs structured training (she pulls on the leash) and someone who is in charge so she can learn the rules. 4/2/20209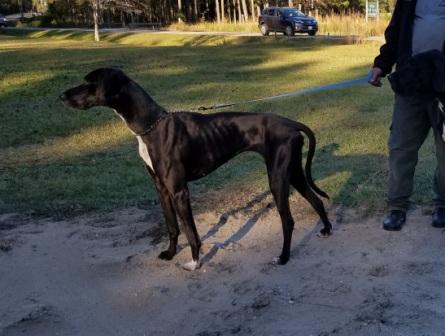 Zeus: is an 18 month old Great Pyr through no fault of his ended up in a local shelter. Zeus loves people and smalrl dogs. Larger dogs are a little intimidating so he needs slow introductions so Zeus can warm up to them. Since he has moved into a foster home Zeus has turned into a velcro dog and wants to be with his people all the time. Zeus currently weighs in at about 90 lbs but should be closer to 100-105 lbs with still more gowning to do. He was also given a very bad haircut before being turned over to the shelter that will grow back.4/2/2020
Little Miss Tiny: My name is Little Miss Tiny and I am 4 to 5 year old. I have a rough time lately and currently looking for a forever home that will love me and let me watch TV all day. Miss Tiny is a very sweet loving girl who has never meet a stranger. She came into our rescue weighing in at 155 lbs, she is now 151 and could use to lose a little more. She also needs to walk more to build up the back end. We think she has been crated for a long time and did not get enough exercise. SO if you are looking for a big TV pillow and snuggle buddy her she is. To give you an idea of size Miss Tiny's pink collar is 28" lg.4/2/2020
Brody: was found walking around, you see Brody has had a hard life so far. Brody is about 20 to 30 lbs underweight he had severe ear infections (both ears) and a lot of hair loss. Since coming into the rescue he has gained 5 lbs the ear infections have cleared up and he is a joy to be around. Brody is somewhere around 5 to 7 years old, likes other dogs and loves attention from people.4/2/2020
Dee:
is a 2 to 3 year old Rottie that was picked up running the roads. She is about 85 lbs and is about 10 lbs underweight. Dee is a very sweet girl and lessons well. What Dee does not like is cats and little dogs. Dee is heartworm positive, but will be heartworm negative by the time she goes to her new home. If you are looking for one of the sweetest dogs that has come through our rescue than here she is.
4/2/2020
Hank: is a male Dane mix, estimated age 5-7 years old. He is a truly gentle boy, seeking out love and affections and couch naps. If you wanted to lay with him for cuddles, even better. Hank is good with dogs, unknown on cats. He is good with kids, house trained and knows some commands (sit and down). Hank will need some leash training. He is neutered and ready to go to his forever home. Have you ever seen a better Resting Bitch Face on a dog? Seriously. 😍😍😍 and don't worry, his ear wound is old and healed up. If interested in RBF aka Hank. 3/23/2020
Mable: is a 1 year old Great Dane. She is great with dogs and kids and house trained. She knows how to use a dog door and she gets yummy treats when she goes in her kennel. She walks really well on leash and has done amazing at the dog park. Mable has also done great with kids. She could also be your couch nap buddy or hiking pal. Mabel is definitely an energetic puppy, but hasn't been destructive in her foster home. Mable has Diabetes Insipidus and takes medication 3 times a day. The cost of the medication is about $65 a month. 3/23/2020
Fezzik: aka Fez is a 4 yr. old smooth coat male that we just rescued. He is neutered, house trained, vaccinated and micro chipped. Fez is sweet boy that's great with kids, other dogs, and even chickens. He loves attention, walks, car rides, the snow, or just hanging out with the family. He does take a low grade thyroid medication and we will supply at least a month supply. This medication doesn't cost a lot, and hopefully in a year when he has his checkup his thyroid will be normal. Fez does know his basic commands but we do recommend continued obedience training.3/23/2020
George (#4): is a young, super lovable longhair male looking for a forever home. George plays well with other dogs, is good with indoor cats (but will chase an outdoor cat that runs), good with kids but we are recommending kids 10 and older as he is bouncy, strong and not completely aware of his size. Knows some commands, loves attention, walks (still learning leash manners). So far he is good with livestock, but we recommend ability to keep him separate while he learns. Housebroken, with good house manners. He is being rehomed because he needed more exercise than his last home could provide, so we are looking for a big fenced yard so he can get his
zoomies out. We would prefer he go to a home that has giant dog experience. Currently fostered in Southern OR. Neutered, UTD on vaccines, H/W negative and microchipped.

3/23/2020
Axel: is a young dog, that needs some training and basic manners, his bad habit is jumping on people. we are working on that with him. We suggest a new owner doing classes with him. He is a sweet and loving dog that loves attention!
3/22/2020
Sanchino: is a 2 1/2 year old male Great Dane/Mastiff mix. Sanchino is a very playful boy, but can be clumsy and excited, and knock over little kiddos. No small animals are recommended due to his size and his own lack of understanding of his size :) He would love a family that has time to give him attention, and work on some socialization. He did great at his obedience class, but the owner admits he didn't maintain the training, so a refresher course would be a great thing for Sanchino and his new family to do together. All dogs in the home must be fixed, fenced yard required as he will wander off, and we only adopt to within 12 hours of Boise, ID. 3/6/2020
Bee Bee: AVAILABLE FOR ADOPTION! Bee Bee is a super duper cutie patootie!!!!! 😍She is 2/3 years old. Great with dogs and kids, house trained, and an extreme cuddler. Bee Bee loves car rides and the wind in her hair! But beware....she will take off running if given the chance...see the photo below where her foster mama is chasing after her 🤣 Bee Bee is in foster in Utah. Fenced yard (6 foot fence) required, all dogs must be fixed. We adopt to within 12 hours of Boise, ID. 3/6/2020
Lucy: is 2 yrs old, she is a long hair female, she gets along with other dogs, but will steal their food if they look away. She does not play with other dogs or toys, just wants tummy rubs and attention. The adoption fee includes all shots, heart worm test, neutering, a Home Again microchip and one night free obedience class in the Reno, Sparks, Carson City and Tahoe areas. We also include an information packet and a large bag of dog food. 2/23/2020
COWBOY: They don't get much cuter than this sweet boy. Cowboy is just 12 months old. He still has some of that puppy fuzz. HE will require basic obedience after adoption. He will be neutered and vaccinated prior to adoption. Previous Saint Bernard experience is required. His adoption fee is $600. HE will be crate trained and have basic house manners down. Want to make this sweetie a part of your forever family? 2/18/2020
Raegan: is a 4 year old s/h neutered Saint. Raegan is a dream dog. He is good with everyone he meets. Loves cuddles, walks well on a leash, great house manners, house broke, good in the car and an easy dog to take out in public. Knows some basic commands, gets along good with both male and female dogs and is on the submissive side. Raegan is looking for a loving home. Older children would be best. We feel he would do best with another laid back dog that is close to his size, as he doesn't like to be left alone. No separation anxiety, but he just gets lonely. This one is a prize. UTD on vaccines, microchipped, and heartworm negative. Currently fostered in Monmouth. 2/18/2020
Penelope: is a 3 yr old spayed female who is looking for a forever home. Penelope is a friendly, social girl who is submissive with people. She is currently living with a male Saint and as she settled in, she likes to let him know she is in charge. Since coming to rescue she has lived with both male and female Saints and has done well with other dogs. Currently living with two independent indoor/outdoor cats and is doing ok, but she may not appreciate cats that are always in her space. Penelope was very underweight when she came in and had a history of guarding her food bowl. We have witnessed a few warning growls to other dogs to back away from her bowl, so separate feeding area is suggested with a new dog until she gets used to her new home. Expect a little anxiety as she settles into a new place, she is very sensitive. She is crate trained, easy to handle and housebroke. Her ideal housemate would be a friendly, easy going male approximately the same size who won't mind if she gets a little bossy from time to time. This girl was used as a breeding female in the past and we do not have a lot of background history on her. She loves to cuddle and loves attention. We are looking for an adult only home for Penelope, as we do not know how she would do with young kids. She would do best with someone who doesn't work a lot of hours, works from home or is retired. Her current foster works full time and she does fine alone. UTD on vaccines, heartworm negative and microchipped. 2/18/2020
Cody: is about a 10 month old neutered long haired Saint. Cody is a sweet pup who hasn't had a good life up until now. He was turned in for separation anxiety and not being housebroken to the shelter and was underweight and neglected. He is a happy, submissive boy and gets along with all the OSBR dogs, young and old, male and female. His former home had children and they said he was wonderful with the kids. Cody has some hip dysplasia on his left side, so for this reason we would recommend older dog savvy kids and a family that understands there may be some medical management of the issue in the future. He would benefit from slowly introduced muscle building exercise such as swimming. We will be finding out more about that condition in the next couple of weeks. Over the last few weeks, we have seen him getting surer about where his feet are falling and seems to be gaining strength. Cody loves attention and love. We have not had any signs of separation anxiety, other than a little whining on day one. He has not had any accidents in the house. He has whined and stood at the backdoor when he wants to go out. Since he is flourishing around the other dogs, we think he would do great with a couple of good natured dogs around his size. He lays down in the living room at night and likes to sneak up on the couch. He has some of the sweetest eyes and is very expressive. This boy is currently about 95lbs and will be growing more. Cody knows his name and right now, that is about it, so he will need someone to show him the ropes. He doesn't walk great on the lead yet, but he is not reactive or difficult for the average dog experienced person to control. He will do well in a home that has ample time for him and with someone who works from home or part-time. We have no way to test him with cats at this time. He loves to play and run with other big dogs. UTD on vaccines, microchipped. Currently fostered in Portland. If you are looking for an older puppy, Cody may be the dog for you. 2/18/2020
Nana: is a 3yr old spayed long hair female Saint. Nana is a sweet, affectionate girl looking for her forever family. Nana is housebroken and does well alone in the house during the day. Nana loves to go for walks and car rides, so she will start off pulling a little on the leash but settles down quickly once she is on her way. Nana is doing well with the male dog and 2 cats she is living with. Nana likes to jump up on you to look into your eyes. Nana does have resource guarding issues concerning her food dish. She will need to be fed separately around any other animals while you work on this issue. Due to the jumping and resource guarding we are suggesting she goes to an adult only home and be the only pet in the home. Nana would love a big backyard with a six foot fence. Nana is spayed, utd on shots, microchipped and h/w negative. Currently fostered in Portland area. 2/18/2020
Elliott: We picked Elliott up from the Amish. He drug me to my awaiting van with warmth and most of all and BIG OLE COMFY futon mattress. When we went to move him to the back of van ( we were picking up more dogs) he threw himself on his side begging us not to take him out. No worries big guy we were just making room for more. Elliott is about as easy going as they come. He's tall and lanky and loves everyone he meets. Dogs, people, cats get is good. His a senior and turned 9 years old in June. He lived his whole life on a cold dark barn on hard dark dirt flooring. He deserves a couch and dog beds to have his choice of where to lay.
2/17/2020
Ted: Sadly Ted found himself in rescue after a nasty divorce and no where for him to go. His mama was heartbroken but reached out to us to take him and find him a forever home. Ted is up to date on vaccines and is on the smaller side for a Saint. If you want the look, personality and breed this could be your boy. He weighs in at 85-90 lbs. Ted foster mom says he is the sweetest. His groomer said that he was fantastic for everything they did including his nails. Good boy Ted!2/17/2020
Fred: is a 14 month old smooth coat neutered male. He weighs 124 pounds but appears much larger. Fred lived with an older couple who was having difficulty controlling his impish behavior. Fred will need owners who will set guideline for him and also add obedient training.2/17/2020
Paylin: is a two year old smooth coat spay female. When you think of the ideal Saint Bernard you think of Paylin. She loves people and animals of all kinds. Paylin is gentle enough to be placed with toddlers as she is aware of their size and is extremely gentle. As loving as she is, Paylin is not a needy saint and will allow you your space and time to just relax as she quietly lays by your side. 2/17/2020
Chief: is a 20 month old long coat neutered Saint Who's owner spent time training him. He lived with a young couple and infant. The problem is, grandma is the babysitter who has difficulty handling an adolescent Saint Bernard. Chief just doesn't know his size and after all, he is just a pup. 2/17/2020
Meatball: is a six year old neutered male bulldog. Yes you read that right. He's a bulldog. He has a mind of his own and definitely wants to be the BOSS. After all he is a bulldog. He loves to snuggle and go for car rides. Meatball is not good with small children and should be placed in an adult home. That means no one under the age is sixteen. This boy has some bad habits like thinking your feet are play things. We are working on this problem but be aware if you adopt him you will need to wear shoes. 2/17/2020
Captain: is a 4 yo neutered male rough coat. His family needs to re home him. They feel they can no longer provide the time he deserves. He is located in Mobile AL area. 1/28/2020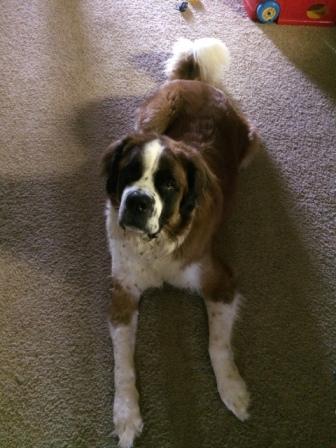 Bella: is a 3 1/2 year old female Great Dane. She gets along with dogs and cats. She is also house trained. Bella would do best in a home with no children under 12. Fenced yard required. All dogs must be fixed. 1/24/2020