Zoey: # 2 is about 6 yrs old, , she is very loving and likes kids and lady's she is very easy/ slow going. Gets along with other dogs, and will play with them. The adoption fee includes all shots, heart worm test, neutering, a Home Again microchip and one night free obedience class in the Reno, Sparks, Carson City and Tahoe areas. We also include an information packet and a large bag of dog food. Our adoption fee is $ 250.00 ( Due to being a Senior) and we are located in Reno, NV.. 6/6/2019
Bailey: is a 2 yr old rough coat male that we rescued from his owner. He has been vaccinated, spayed, and micro chipped but he has been diagnosed with hip dysplasia in his right hip which we will take care and then he will be ready for his forever home. Bailey is sweet pup that's fine with other dogs, house trained, and hasn't shown any aggression towards cats. He loves attention, walks, car rides or just hanging out with you.6/5/2019
Duke: is a 4yr old rough coat male that we rescued from a local shelter after his family surrendered him because his owner passed away. He is a sweet boy that loves attention, is house trained, good with most dogs and loves riding in the car. Duke is vaccinated, neutered, and micro-chipped. We recommend obedience training and no small children only because he hasn't been around children and he is a big boy. 6/5/2019
Griz: is a 9 month old neutered Bull Mastiff/English Mastiff mix, looking for his forever home! Griz is a very friendly pup, great around kids and we recommend over age 6. Griz has been an only dog, but has done really well with other dogs when he meets them. Sadly, his neighborhood has decided the Mastiff breed is no longer allowed, and the owner has to give him up. Griz has been very loved and is an indoor dog, although he loves to be outside and smell the flowers, or sunbathe. Griz has never been around cats, but his owner said he would probably be a chaser. If interested in adopting, apply at www.saintrescue.org. Fenced yard needed, dogs in the home must be fixed, and we adopt to within 12 hours of Boise, ID. 6/3/2019
Ollie:
This is Ollie (born 05/20/18) who came into rescue when his people did not have enough time for him. Ollie is a very sweet rambunctious puppy who needs help with learning the play limits and
manners (not to jump on the couch) but how can you get mad when he smiles at you. So if you can teach a young man manners he is the one for you
.
pictures/Idaho/id-Griz.jpg
Sweet Otter: is 11 months old. She will require basic obedience as well as socializing. Loves other dogs, good with slow intros to new people but very loving and sweet. She is house trained and crate trained. Fully vetted and ready for her forever home. Adoption fee $400.5/16/2019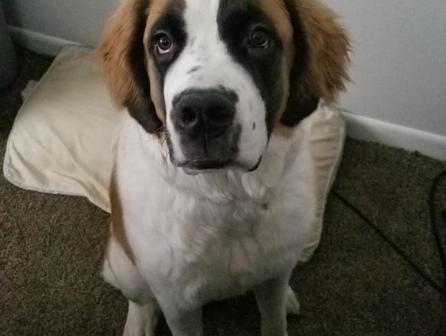 Cassie: is a 4 year old smooth/splash coat female Saint. Her owners are devastated that they have to let her go but she is showing some prey drive and resource guarding food/ treats from her chihuahua housemates. She is sweet as can be with people and has no problem gently taking treats from your fingers. Cassie is well behaved and knows all her basic commands. She does walk well on a leash but if a dog is wild and makes a lot of noise she may try to pull you over to him. Cassie does like to bark at other dogs through the window so you will need to tell her no and put her into a down position, away from the window. Her favorite thing to do is climb up on the couch with you so she can snuggle and give you kisses. She also enjoys car rides and meeting new people.5/11/2019
Miss Edith: will be 11 years old! Eleven and in need of a forevermore home. I was told by her previous owners that they got her at 12 weeks old and threw her in an outside pen. She was never spayed, she was never taken in the house to hang on a couch or bed, she was never given heartworm prevention. Because of this she is heartworm positive, she was underweight, and she was still having heat cycles. BUT NO LONGER.... she has her very own bed at her foster home as well as she has been spayed and is feeling much better. She is still heartworm positive but we are doing a method of slow kill on her. She runs and plays and loves her foster siblings as well as human kiddos. She is very sweet and just needs a place to hang and be loved for the rest of her days. Can you offer Edith that forever? 5/3/2019
Benny: This sweet little nugget came in with his Saint Bernard momma from a neglect case. He was urine stained and walking down on his wrists from poor nutrition. We have spent the last couple of months doing bandages on his front legs trying to help correct the breakdown from no nutrition. He is now 5 months and doing so much better. He is working on house training and doing well. He is eating three strong meals a day and growing like a weed. He is good with kids and other dogs. Most likely good with cats also and learning to walk on a leash. He is Saint Bernard and something and we think he will be medium sized boy when done growing. He will be neutered prior to adoption and microchipped. He will require basic obedience upon adoption. 5/3/2019
Koda:
is a 14 month old Great Dane that has learned how to be a puppy after being neglected for quite some time. He has gained some weight, was recently neutered, and is ready to be the king of his own castle! Koda LOVES to cuddle, curl up on the couch with you, chew on his stuffies, and play with other bigger dogs. He will need some training as he does jump up and doesn't know many commands yet,
but he is house trained and does okay in a crate (although I would not recommend that for a long work day situation). He will need to be fed separately from other dogs (after being starved for so long he has some guarding issues with his food). Koda is a total couch dog, and is starting to show that puppy personality now that he has a full belly and knows he is safe. He is going to make someone very happy! Fenced yard required. All animals in the home must be fixed (definitely no exceptions) and
we only adopt to within 12 hours of Boise, ID.
4/15/2019
Meet Winnie: is a 5 year old spayed female. Winnie is an absolute treasure! She is sweet and loving, just a big cuddle bug. She loves to be near people and is very social. She loves treats and will sit for a treat. She walks well on a leash and rides great in the car. She doesn't beg for food, jump on counters or even really pay attention to food that is not her own. No chewing on anything that is not her own toys. She's really well behaved! Unfortunately, Winnie doesn't seem to like other dogs, so we are seeking out home where she can be the queen. We have no history of how she does with cats or livestock. Winnie is also excellent with children and plays very sweetly with them! Winnie is being fostered in Bellevue WA.4/3/2019
Edgie:
Introducing Edgie is a fun-loving 5 1/2 yr old spayed long hair female. Edgie came to us when her owner could no longer care for her due to health problems. Edgie has spent most of her early years outside in a kennel so she has been learning the ropes of being a housedog. We are seeking out a home without other female dogs. She gets along with her male foster brother. She is learning about cats, but will need supervision and some additional training as she gets used to them. She is working on basic leash etiquette and housetraining. She likes car rides, people, walks, and is very inquisitive. Edgie has never been around small children and due to her size, would do best with teenagers and a home that has experience in training bigger adult breeds. Edgie is a beautiful, sweet girl looking for a family that can help her reach her full potential. She is spayed, microchipped, utd on shots, and heartworm negative. Edgie is being fostered in Portland area.
3/30/2019
Hercules: aka Teddy is a 5 year old Saint Bernard. He is loving and playful and would do well with a family with children. He gets along well with the other dogs that he lives with but is too curious with cats. He is smart and listens well but at times can be like a petulant teenager and will throw himself on the ground if he doesn't want to do what he's told. He is neutered. More info and picture available upon request. Teddy's adoption fee is $300. If you are interested in adopting Teddy please fill out an application at adoption.3/27/2019
Kingsley: is healthy, happy and ready to find his own castle! This boy has been through hell and come out the other side...he's ready for sunshine, green grass, and a servant to feed him, maybe some kiddos to run crazy in the yard with him ? Kingsley can be a little dominant with other dogs, so a submissive dog or no dogs is best. He doesn't care about cats. Fenced yard is needed. NOTE: Kingsley has Diabetes Insipidus. He will need medication and regular vet visits to test his urine (we recommend calling around to different pharmacies to find out the cost of the medication...currently we are paying between $65-$100 per month). Without the medication he will drink a LOOOOOTTTT of water and pee constantly, which makes his kidneys work overtime. He is used to a dog door and goes in and out as he needs. He can be scared of stairs. Kingsley is one of those very special souls that come around every so often and just affect everyone around them. He was almost starved to death and made an incredible comeback, and did it with such a happy attitude, constantly wiggling and wagging, happy to lean on and kiss anyone who gave him attention. Kingsley deserves nothing but the absolute best. I3/15/2019
Tonka: is a 3 yo neutered male rough coat. He was picked up as a stray in the same rural area on an opposite end of the county as Alex. He's been at the Rescata for 1 week. He's learning. We still have to go open a gate for him once he finds himself in the pasture w/ the horses. Another diamond in the rough.3/7/2019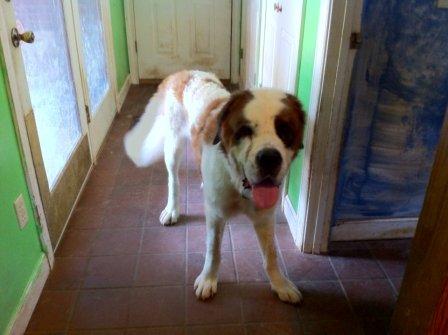 Cinnamon: is a 6 year old spayed female l/h Saint Bernard. Cinnamon came to us in December from a neglect situation and has been getting her veterinary needs taken care of. She needed surgery to repair an umbilical hernia, spay, dewclaw removal, and some sebaceous cysts removed and treatment for a sinus infection. She has gained some weight but has a ways to go. Cinnamon is utd on shots, micro-chipped, heartworm negative and ready to start her new life. She is a sweet girl who likes other dogs, she has been exposed to cats with no problems and is good with kids. She is a bit fearful of strange men but warms up after a bit. She does well in the car but sometimes can be a little stubborn about getting in and out. She has done well on public outings. Cinnamon was bullied by another female dog she was kenneled with and is on the submissive side. She has separation anxiety when left alone, but as long as she has canine company she seems to do well. 3/4/2019
King:
is a gorgeous 4 year old Great Dane looking for his forever home. He would like a home where he is either the only dog, or is with a female dog (NO male dogs). He is house trained and will nudge you and put his nose on you to let you know he needs to go potty. King is a big couch potato and loves to sleep in the same room as his people. He does fine with men, but definitely prefers women. King does well with kids too. He would like someone who is home a lot, but does fine when left alone. He does fine with cats inside, but will chase them outside. King is a sweet boy and is looking for a lap to lay in. All animals in the home MUST be fixed, fenced yard required and we adopt to within 12 hours of Boise, ID.
2/26/2019
Hank: is a 1 yr old soon to be neutered male Saint Bernard. Hank is most interested in playing and having a good time. He is a high energy Saint puppy. Hank is good with other dogs but some may be overwhelmed by his size and outgoing personality. He has not been around cats. Hank is house broken, likes car rides, has been around kids but still has puppy qualities such as mouthiness and being a bit pushy, so we would recommend older dog-savvy kids. He is a bit barky, especially when meeting new people but comes around quickly. He loves to cuddle and attention. He will need to learn basic training but is a wonderful boy. Hank will be neutered, UTD on vaccines, has had his rear double dewclaws removed, micro-chipped and is heartworm negative. Hank is currently being fostered in Medford. 2/19/2019