Adopted (Placed) Saint Bernards 2018
Cooper: is a 6 ½ year old neutered male. Cooper came to rescue because he was super stressed out by the 2 year old toddler he was living with and he was spending most of the time hiding from the toddler, only coming out of hiding once the baby was in bed. After evaluating, we have decided that he will need to go to a home with no children (kind teenagers ok). Cooper is a big boy, about 155lbs. He does pull on the lead and is very strong when he sees something he wants to investigate, so we would suggest a no pull harness for public outings. He is friendly and playful. He is getting along with our foster's dogs and lived with other dogs previously. He is learning about cats at the foster home, but that is something that will need to be worked on. Cooper loves ear scratches and belly rubs. He is clever and can open pull down handle doors to get out, so if you have this type of door you will need to keep it locked. He loves ice. If he hears you putting ice in a cup, he will come running. He also knows how to use an ice maker on the front of a refrigerator. He loves to play fetch and playing keep away. He is not a digger or a fence jumper. Loves stuffed animals and chew toys. He really likes pancakes and waffles, so he enjoys a bite or two every so often. He has been through obedience school, has good house manners and is housebroken. He does ok at the vet, groomer and boarding. Cooper has been well loved and cared for throughout his life, but just found himself in an environment that wasn't making him happy. His owners tried to work with the issue, but for the safety of both Cooper and the toddler, they made the difficult decision to find him a new home. Currently, we are working with folks on our waiting list who are interested in this boy. 12/10/2018
OSO: is approximately 3 years old, although he acts younger :) He is said to be a Saint Bernard/Golden Retriever...who knows though? He is a big, cuddly, fuzzy bear. He LOVES to play with other dogs and over the time we have gotten to know him, we have decided that is a must in his new home...another playful dog for him to romp with. He adores toys too and the squeakier the better! Oso also adores children and does fine with cats unless they run, then the chase is on (only for play...) Oso's perfect day would be rolling in the grass, tossing his toys around, playing chase, and then cuddling on the couch to watch a movie. Oh, if he could swim in there too that would be great. Oso can climb fences so a 6 foot or taller fence with no footholds is required. No chain link fences. 12/5/2018
Whiskey: Hello my name is Whiskey. I am an 8 to 9 month old Saint Bernard and don't let the name fool you I am a girl and all puppy. Whiskey main goal in life currently is to have fun. She has never meet a stranger either two legged or four legged. As a puppy she does need training on the leash and hose manners. The good part she is house broken and loves kids. Whiskey is up to date on shots and was spayed 10/02/18 so she is good to go. Whiskey current weighs in at 78 lbs which means she is going to be a big dog and needs a family that can help train her to be the best dog she can be.12//4/2018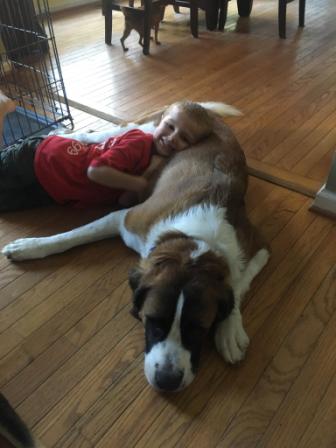 Isaiah: This is Isaiah; he is about 9 months old and 56 lbs a Saint mix or honorary Saint we are still trying to decide. What we do know for sure Isaiah is a very sweet and timid young man. He like being around all dogs but is shy when it comes to people, but he is trying really hard to overcome that. So if you have the time to be patient and help him gain confidence you will have one very special loyal dog for a life time.12//4/2018
Xena: This sweet 2 1/2 year-old Landseer chocolate Newfoundland girl is a work in progress. She was a breeder dog prior to coming to living with her foster mom. She is good with other dogs, a little hesitant at first just because of her submissive nature. She is kind, willing, wants to learn. Her leash walking as well as crate training are a work in progress but have made leaps and bounds since coming into foster. She needs someone who is willing to continue her training and socializing. She will be a wonderful companion as she continue to learn how to be a spoiled house dog. A fenced yard is a must for this sweet gal. Her name is Xena!12/1/2018
Yeti: is a 5 yo neutered male rough coat. His owner is seeking to rehome him. They feel he will do better in a home with no other dogs and no small children. Yeti is located in the Huntsville AL area. 11/29/2018

Sandy: My name is Sandy. I am 17 months old and landed myself in a high kill shelter. Thankfully the wonderful rescue loving staff reached out to ISBR to get me out before I hit the kennel floor. I am great with other dogs, love kids and him 98% housetrained. I will require basic obedience and continued socializing once I am adopted. My adoption fee is $400 I am spayed , current on vaccines, heartworm tested and started on preventative. I'm a really good girl and I'm just looking
f
or my forever home. Is that you? Fill out an adoption application to start the process to bring me home.
11/12/2018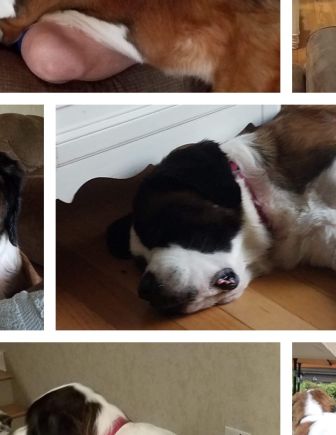 Yadi: Hey cardinal fans I was obviously named after their awesome catcher Yadier Molina! You can call me Yadi for short. I landed myself in isbr after my owners gave me away to an older couple that I was to much for. Sadly they loved me so much that they put almost 15 lbs on my in 3-4 months. Other than being chubby and needing a diet I'm a healthy neutered male looking for my forever home. They made sure I landed in Illinois Saint Bernard Rescue since I was to much for them to take care of. I am good with kids, cats, and other dogs, house trained and enjoy car rides! I'm not super active so I will have to be forced to go for walks twice a day to loose that extra weight. I am around 5 years old and a big love bug. My adoption fee is $400. Feel free to fill out an application online to start my adoption process! I'm waiting for you!!! 9/17/2018
Lelo: This is Lelo she is a one year old Saint who came into our rescue when the breeder decided to get out of the business.< ` She is a happy playful obnoxious teenager who needs someone that can help teach her the rules. The right home for her will be able to continue her training and set boundaries to make her the perfect addition to there home. 10/31/2018//
Erik:is a 16 month
old neutered male. Erik is good with most dogs, doesn't bother cats and loves kids. Erik needs someone to shower him with love and to work with his basic obedience training.
3/22/2018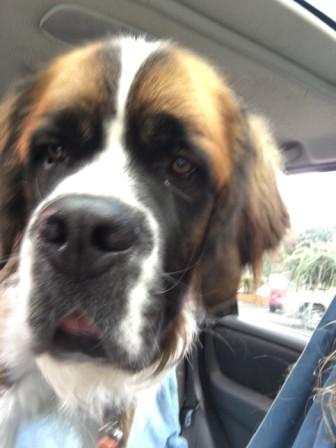 Harley: is a very sweet, easy going boy. he came into our program with Heidi, and would like to be adopted out with her. The adoption fee includes all shots, heart worm test, neutering, a Home Again microchip and one night free obedience class in the Reno, Sparks, Carson City and Tahoe areas. We also include an information packet and a large bag of dog food. Our adoption fee is $400.00 and we are located in Reno, NV.. 2/23/2018
Lola: and Puppies: NOW ACCEPTING APPLICATIONS. Now that both Mama Lola and all the puppies have been seen by a vet and were found to be healthy, we are ready to accept the onslaught of applications. Mama Lola and puppies will all be available in the middle/end of February. The puppies were born December 12, 2017. They are Boston Terrier/English Bulldog mixes. They have had their first vaccines on January 29, 2018, and will possibly have their second, depending on when they go home. They will be spayed/neutered, dewormed, and microchipped. Fenced yard required. NO underground fencing. Must have a schedule or plan that accommodates taking puppy out to potty frequently throughout the day. All other animals in the home must be fixed. We adopt to within 12 hours of Boise, Idaho and you must drive here to pick up your puppy. Here's how it will work: 1) Submit your adoption application. 2) We will review applications and contact those we feel are the best fit, 3) We will call your veterinarian to ensure your current animals are all fully vaccinated and spayed or neutered, and that you have taken care of past and present animals, 4) We will do a home check to check the home environment, fencing and gates, 5) We will finalize the adopters, 6) Come get your puppy. Please know, every time we post puppies, we get a TON of applications. It does take us time to review and process them all. Please be patient.2/20/2018
Frank: is four years old and can you say HANDSOME looking guy! He likes other dogs but no small dogs or other small furry and feathered friends please. Frank loves people so much and is a great hugger. He does have seizures which are controlled by medication. He can either be adopted or a permanent foster and the rescue will cover the medications.2/15/2018
Atticus: is a 1 1/2 year old Great Dane. Good with kids, needs a proper into to other dogs. Great with cats. 2/5/2018
PIXEL: IS AVAILABLE FOR ADOPTION! Pixel is a 2 year old Akbash (mix?) who came to us from the Pocatello shelter. She came in with a skin condition, but it has been determined she does great on grain free food. Pixel is great with other dogs and kids! She does have separation anxiety so will need someone that can work with her on this, or is home a lot so she can be with her people. Pixel is also a guard dog breed, so can get protective of her people. She would do great on a farm where she can be outdoors doing her instinctual guarding during the day, and inside with her people at night. Pixel is house trained and very playful. She would do great in a home with another dog to help with her anxiety. 2/5/2018
Dookie: IS LOOKING FOR HIS FOREVER FAMILY! Dookie is approximately 9 years old, and is a big cuddly bear. Good with bigger dogs, NO small animals. Fenced yard needed, and he would love someone who works from home or is home quite a bit. Not absolutely necessary, just his preference. 2/1/2018
Gunter: is a 5yo neutered male rough coat. His owner is needing to rehome him. He needs a home as an only dog with no small children where he can get all the attention all the time.1/30/2018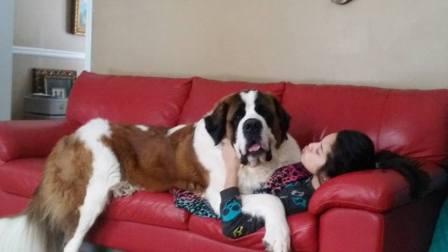 Sadie: is a 2yr old female long haired Saint. She is a smaller, athletic Saint, about the size of a Golden Retriever. Sadie came to us from a shelter where she was relinquished by her owner. She had been living in horrible conditions in a muddy backyard with no training and little interaction with others. Sadie is underweight; when she arrived she weighed 74lbs. She is eating like a champ and starting to gain weight and is cleaned up and looks much better than when she first came in. Sadie's target weight is at least 90lbs. Sadie is doing great transitioning to an indoor dog. She is good in the house and has not chewed on things she is not supposed to. She gets along great with the two dogs she is living with and loves to play with them. Occasionally, she chases the household cats but stops in her tracks with a firm "No Cat" command. She is housebroken and is learning manners and how to pay attention. She needs an owner who can set limits with her and stand by then. Sadie needs more practice learning to walk on leash and would benefit from an obedience class with her new owner. Her public manners need work because she gets so excited to be in new places. She is friendly with everyone she meets and will give kisses, but she definitely needs to rein in her exuberance. She seems to love car rides. She can be fearful of loud noises. She is good about having her ears, feet, etc handled. Her former owner stated she has lived with children and is very tolerant and playful with them. Sadie does "mouth" your hand when she gets excited and wants attention, so that will require a little training. She is currently learning that she does not get attention until she calms down. She would do best in a household with other dogs to keep her company and with an owner who has plenty of time to spend with her and love to give to her. Sadie is UTD on shots, microchipped, HW negative and is scheduled to be spayed in the next week. 1/19/2018
Petunia: is a baby at just 5-6 months old and is FULL of energy! No lazy households for this girl! She is a Great Dane mix (we are thinking possible Catahoula? What do you think?) She is just a love and sweet as can be with other dogs and kids. Petunia is full of P & V and will keep you on your toes, so she will need an active household that will take her places, let her run, take her hiking or on lots of walks, etc. We would like her to go to a home with another playful dog and a fenced yard. All other animals in the home must be fixed. 1/18/2018
LUCY: IS A DERPY DIAMOND IN THE ROUGH! Well, our Lucy girl keeps getting overlooked somehow. She is a wonderful girl, she just needs someone to give her a chance to settle in and get comfortable. Lucy does not do well with small animals, but will do great with a happy go lucky bigger dog. No young kids either please as they make her nervous (over 8 years old preferred). Lucy is sweet as sugar and does the Dane lean against your legs for comfort or attention. Lucy is house trained and not destructive when left alone. She is ready to go to her new home. 1/18/2018
Vinnie: is a Saint Mix and a very young energetic puppy who only goal in life is to have fun. At 8 weeks old he weighs in at 13 lbs, once he gets all his shots and gets neutered he will be looking for his forever home.1/17/2018
Gretl: Happy New Year and to start off the year we have a new girl Gretl. Gretl turned one year old Dec 14 th and she weighs 89 lbs, so she should be a big girl when she is all grown up. Gretl is all puppy and just looking for someone to play with. Her ideal home would have a fenced yard and some big kids to play with also another big playful dog would be great. Gretl like everyone kids, dogs and seems to like my cat.1/10/2018
Bella: is a supper sweet dog she likes to give hugs and kisses, if she could arrange to fit into a pocket and ride around with someone for the day she would be happy. She gets along with other dogs. She does need: Leash training, Car getting into training. The adoption fee includes all shots, heart worm test, neutering, a Home Again microchip and one night free obedience class in the Reno, Sparks, Carson City and Tahoe areas. We also include an information packet and a large bag of dog food. Our adoption fee is $400.00 ( Plastic cards or cash excepted only) Sorry No Checks ) we are located in Reno, NV. 1/8/2018
Beauty: is a high energy alpha female Saint. The first comment when people see her is how pretty she is and what a beautiful wavy coat she has. Beauty knows her commands, can self entertain, loves walks, attention, body rubs and is house-trained. Beauty is spayed, micro chipped and current on her vaccines. She weighs 120 and has been working on building up her bones since she had a broken elbow when she was rescued. Most of the time you can't even notice a slight limp which doesn't slow her down. Beauty loves all people, but is choosy about her canine companions that must be submissive to her and enjoy playing hard. She needs a family with prior experience with setting rules with big dogs. Beauty is working on her socialization skills and would love to meet you.1/8/2018
Morty: is 6 month old rough coat male that we rescued from his owner. He is a sweet pup that is very playful, loves meeting people, good with kids and other dogs. Morty is neutered, vaccinated, micro-chipped, house trained but being he is still a puppy he could use some obedience training.1/3/2018
Daisy: is 8 month old rough coat female that we rescued from her owners. She is a sweet pup that loves attention, belly rubs, and rides great in the car. She is vaccinated, spayed, micro-chipped and house trained. Being that Daisy is still a puppy that's great with kids but a little shy with adults but warms up quickly. We have started her obedience training but we recommend she continue with her training.1/3/2018
© Saint Bernard Rescue Foundation, INC. 1999
Send questions or comments about this page or site to:
reckblad
cox.net
When sending e-mail to us please include where you are located (city, state)
This site maintained by Rick