200 Adopted (Placed) Saint Bernards 2016
These dogs are no longer available to find dogs available for adoption please click (Here)
Winston: is 1 year old rough coat male that we rescued from his owner. He is a sweet pup that is very playful, loves meeting people, and good with kids but Winston really wants to be the only dog in the house because he loves to have all the attention to himself. Winston is neutered, vaccinated, micro-chipped, but will require some obedience and house training being he was raised as an out door dog. 12/30/2016
Arizona: Sweet Arizona was an owner relinquish. Unfortunately her owner had to rehomed her because of a job change and made her an outside dog. She did not acclimate well to that and kept finding a way to run around. AZ is the perfect house guest. No messes, keeps to herself and her people. She love she everyone she meets and would love to become a part of your family and home. She is about four years old. 12/30/2016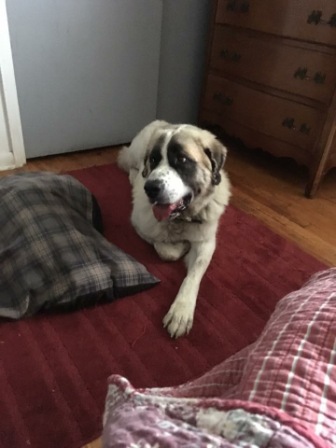 Benedict: is a tall, very big 135lb 5 yr old, long hair neutered male Saint Bernard. He is the sweetest, most affectionate boy ever! Benedict lost his family when they moved and couldn't take him with them and has been patiently waiting for a new person or family to adopt him. He has a great sense of humor and really loves people. He bonds quickly and wants to be next to his person all the time. He loves to rest his head in your lap and rest at your feet while you are working in your office.  Benedict was raised with children around, so he understands little people. He gets along well with female dogs and would love to go to a home with a large breed female that will play with him but he will also be happy as an only dog. He has not been exposed to cats. He has been around chickens and doesn't seem interested in them. Benedict loves car rides and tennis balls. He is UTD on shots, heartworm negative and micro chipped. Can you give Benedict the home and love he deserves? Benedict is currently being fostered in Newberg, OR.  12/27/2016
Toby: is a short hair neutered male approximately 3 years old who was living outside on a chain before coming to rescue. We are still learning about Toby, but he has been good with all the dogs and cats he has been exposed to and very good with all adults and children he has met. He is currently living in Bend, Oregon. 12/21/2016
Sassy: is a 5 year old Saint Bernard, weighs about 120, spayed, up to date on shots, microchipped, great with bigger dogs, NO small animals (no exceptions), house trained, walks beautifully on leash, does great with kids. And talk about good looking!! This dog is seriously gorgeous! Fenced yard is required, other animals in the home must be fixed. 12/19/2016
Jethro: is 6-7yr old rough coat male that was dumped out on the streets to fend for himself. When we picked him up he was very dirty, matted, under weight by about 30lbs, and had a huge tumor that was on middle of his tail which we had to remove to save his life. Jethro is the most mellow and sweetest boy ever; he loves attention, belly rubs or just hanging out with you. He is fine with other dogs and great in the car. Jethro is in a foster home with another saint and per his foster mom he is a sweet happy boy but he deserves a family of his own. Jethro is neutered, vaccinated, micro chipped, and even got his teeth cleaned.12/17/2016
Little Boy: is 8 month old Saint/Great Pyrenees mix male that was released to us by his owner along with his sister Sara. He is a sweet pup that is very playful, loves meeting people, good with kids and other dogs, plus he is potty trained and rides great in the car. Little Boy is neutered, vaccinated, micro-chipped, but still being a puppy he will require obedience training.12/17/2016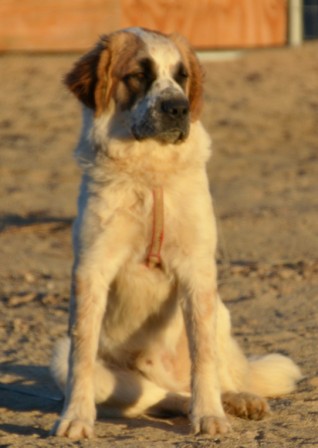 Sara:
is 8 month old Saint/Great Pyrenees mix female that we rescued from his owner along with her brother Little Boy. She is a sweet pup that is very playful, loves meeting people, good with kids and other dogs, plus she is potty trained and rides great in the car. Sara is spayed, vaccinated, micro-chipped, but still being a puppy she will require obedience training.
12/17/2016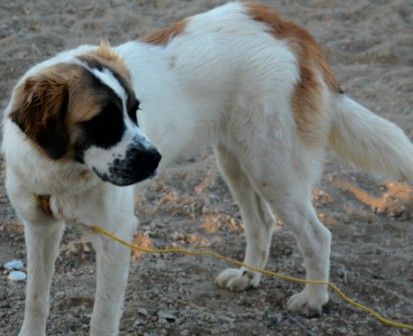 Arlo:
(formerly known as Bernard) is an 8yr old l/h neutered male. Arlo is a happy boy. He has a big bark but once you are in the door he just wants to sit on your feet and be the center of attention. Arlo is good with other dogs and cats but should not go to a home with birds. He is fine with older children who can understand that he has some arthritis in his back and are respectful of his space.
12/8/2016
Goober: is aa 5 year old male Saint Bernard. He is the sweetest most loving boy ever! He will do well with other dogs with a proper introduction. He has lived with small dogs and is currently in a foster with another Saint who he loves to play with. His former owner said he did fine with cats and ducks too. Goober has separation anxiety and would do best with someone that is home most of the time, or could take him to work. He has chewed up some baseboards and blinds in his foster home when left alone, but he didn't do that with his former owner, who was home a majority of the time. His world has been turned upside down lately, and he needs someone that is patient with him. He bonds quickly. 12/8/2016
Dozer: is a 7 yr old long haired male good with other dogs with proper introductions, cats that are used to dogs and won't run and kids who are respectful and will not climb on him. Dozer will require at least a 6 foot cyclone fence and someone willing to work with him, as he tends to be an escape artist when he is lonely. He loves laying at your feet, car rides, playing with his ball, being brushed and getting attention.12/6/2016
Sebastian: is a seven year old St. Bernard who is very loving and playful. He is current on all his shots and has had a loving and caring life. Due to life events I am no longer able to keep him. 12/4/2016
General Public Posting
Sawyer: is a great dog he does need to be introduced properly to strangers but does not take long. He gets along with other dogs. He has not been introduced to cats so that is unknown. He came from a home with a 2 year old so did fine with her. But we always say these are large dogs and animals so behavior can be unpredictable. He needs a foster ASAP. Please consider taking him into your home. Leash trained, Does well in a car, Likes toys, Obedient, Playful, Affectionate, Eager to please, Goofy.12/1/2016
Saint: is no longer in a Shelter cage. He does need a special foster though he is showing fear aggression and would do well with a single female. Housetrained. He needs to have muscle build up, so that his hips will improve. Has little to no tone in the hind quarters. Does not do well with cats, dogs, or children without work with introduction. He is also guarded with food he is very skinny and afraid of loosing it. He is presently in boarding please help us give him a real home to adjust to. Needs work on but mostly, Leash trained, Does well in a car, Likes to fetch, Likes toys, Obedient, Playful, Timid / shy, Skittish, Independent / aloof, Eager to please, Intelligent, Goofy.12/1/2016
Coco: is a wonderful youthful, but well behaved Saint. Leash trained does need some redirection at first, Does well in a car, Obedient, Playful, Affectionate, Eager to please, Intelligent, Even-tempered, Gentle. She is housetrained. She is a purebred papers and AKC information will not be supplied. She is spayed and up to date on all shots. She is on the smaller side for a saint. She needs to be in a home as the only pet. She has been OK with animals smaller then her, but that is truly unknown at this time. The animals would need to meet and evaluate by future adopter how the new family created would work or not work. Coco is currently in the Scranton PA area. But will be moving to Pittsburgh area shortly.12/1/2016
Roman: is a 2 year old smooth coat Saint Bernard who came to foster after living in a shelter for about 6 months. Roman is a calm dog who requires much coaxing to join the group. He is submissive to his two foster sister saints and his foster brother saint. He enjoys running in the yard and playing. He is housebroken. He asks to go out by standing by the door or more often will approach his foster people and put his paw up. He has been on an invisible fence since he came into foster. He enjoys that freedom. He does not beg at the table and prefers to lay down while he eats. He prefers to sleep in the garage but his foster family has been rewarding him with lots of praise when he chooses to sleep in the house. There have been no fights with the other dogs. Roman can sit, lay, shake, and takes food very gently from your hand. When Roman was surrendered, it was reported he had been aggressive to small children. Roman's foster family definitely recommends any children in the home be at least 13 years old. Roman is fond of the foster family teenagers. Roman should not be around cats. Efforts to integrate him with cats have been unsuccessful. Small farm animals such as chickens should be in a place Roman cannot access. Roman likes to have his "hand held." He will put his paw up like he wants to shake but he wants to have his paw held for a minute or two. He will let you know when he is done. He also likes to have his chin rubbed. Roman is not a heavy drooler. Leash trained, Does well in a car, Likes to swim, Likes toys, Obedient, Playful.12/1/2016
Bosley: is a very laid back Saint and would love to go on strolls and moderate impact exercise. He could stand to loose some weight. He is a big loveable Saint. But has shown not to be good with other dogs and children. He must be in a adult only home. He really is a love just needs to have some understanding in the likes and dislikes. He has not shown to be a dog to want to go after children or other dogs but they do need to keep their distance. Please consider this guy as a possible new addition to your family. He is great need of a foster as well as permanent home. He appears to be very healthy no known medical issues at this time. Leash trained, Does well in a car, Obedient, Intelligent, Even-tempered, Gentle. Bosley appears to be housetrained.12/1/2016
Beethoven: Meet Beethoven! Beethoven is an 8 year old, soon to be neutered, beautiful long haired male who is currently being fostered in the Seattle area. Beethoven has always been loved and well cared for, but his owner fell on some hard times and became homeless. Beethoven spent some time living in the car with his owner before coming into rescue. He lost a great deal of weight, but with his foster mom's help he has been gaining weight regularly. Beethoven is just a fantastic dog! He is housebroken, rides well in the car, likes playing with other dogs, is good around cats and has been good around the kids he has been exposed to. He loves the dog park, belly rubs, ocean walks and beef jerky. 11/19/2016
Hugo: We are looking for a foster home or adoptive home for Hugo ASAP! Hugo is a senior long haired neutered male whose age is unknown but we are estimating to be 10 years old. Hugo is losing his home due to lease contract changes by his family's landlord and he will need a place to go within the next week. Hugo's family rescued him around six years ago, after finding him chained up and starving. Hugo has been great with adults, kids, cats, bunnies and most other dogs. (He does not like herding dogs and some male dogs, although he is good with the male he is currently living with). He is housebroken. Because of his age, Hugo will need some TLC. He is having some skin issues and is highly allergic to fleas. He will need to have some blood tests done to see what we need to do to help him. He gets up and down fine. Is there a place in your heart for Hugo? Hugo is living in Oregon City at this time. 11/19/2016
Autticus:
Meet Atticus. A chocolate Landseer. He is 18 months old and lots of fun. He is great with everyone that he meets and loves everyone big small or otherwise. He is 99% housetrained. He Will require basic obedience as all of our dogs do that are under the age of three. To make Atticus a part of your forever home feel free to fill out an
application
online. He is a big snuggler.
11/14/2016
Bruiser: This sweet boy came to us from a person who got him off a craigslist site. He is great nothing but good things have come to us from his foster! Loves everyone and everything. Plays, house trained, walks well on a leash. Age is 18-24 months old. 11/14/2016
Daisy 2.0: This sweet gal came to us from a shelter in IN. The shelter took her in as a owner relinquish, covered in maggots, and severely malnourished. The shelter heartworm tested her and found her to be positive. They called ISBR and we gladly stepped in to help this sweet gal. She has since been spayed, and started her heartworm treatment. They dont come much more sweet and a snuggler like Daisy. She will be available to go to her forever home soon. Will you give Daisy her final home forever? She is 7 years young, good with big and small dogs and cats.Loves everyone she meets and just wants to be petted and loved. 11/14/2016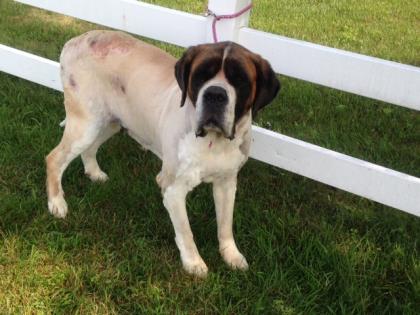 Gracie: made her way to Boise this weekend (thanks Maggie and Lyndsey!) and she is absolutely precious. Gracie is just 2 years old, great with other dogs, barks at cats, and loves to cuddle!!! Gracie has been an outdoor dog, but is indoor at her foster home and is doing great. She learned the doggy door quickly. She has had a couple accidents inside, but the foster said Gracie knows it's wrong behavior and goes straight to the kennel after. 11/7/2016
Bentley: is 8 month old rough coat male that we rescued from his owner. Bentley is a sweet pup that is a little shy when you first meet him but warms up quickly. We got him neutered, vaccinated, micro-chipped, and we are working on his obedience commands and house training. 11/6/2016
Brinks: is a 3 yr old smooth coat female Saint/Lab Mix that we rescued from her owner along with her brother Brut. She has been de-wormed, heart worm negative, vaccinated, spayed, and micro chipped. Brinks is sweet pup that's fine with other dogs, likes water, loves to give kisses and wants to be a lab dog. We have started her obedience training and we recommend that her new owners continue with her training. 11/6/2016